Items such as property, vehicles and other non-cash gifts are converted to cash, unless used by the agency, and the assets allocated per your wishes. If you have any questions please contact us at 989-348-7123.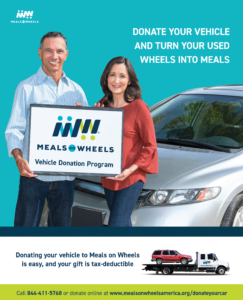 Car donations will be processed through our partnership with Meals on Wheels and CARS, Inc. CARS, Inc. makes the car donation process as quick and easy as possible for both you and us while ensuring the highest revenue from your vehicle. Your gift may qualify for a tax deduction and you can avoid the cost and hassle of repairing or selling a car you no longer want. All vehicles are considered including cars, trucks, motorcycles, RVs, boats, airplanes, heavy equipment, farm machinery, and most other motorized vehicles (running or not). To qualify your vehicle must be in one piece, towable, tow truck accessible, have an engine, and have a clear title. All funds raised from car donations will be used to support Meals on Wheels in Crawford County.
The entire sale process of each donated vehicle can take approximately up to four to 12 weeks, and then Meals on Wheels receives the proceeds. After submitting your donation information online, over the phone, or via email the Vehicle Donation Support Team will contact you within 48 business hours to complete the donation and confirm your pick-up information. If you'd like to donate a car today visit https://www.mealsonwheelsamerica.org/donate-a-vehicle—local, call 844-583-8227, or email donorsupport@careasy.org.
For more information on giving opportunities, please contact Director, Alice Snyder at (989) 348-7123.