MASK MANDATE LIFTED
We have now gone 2 consecutive weeks with a Low COVID-19 Transmission rate based on the Community Level rating of the CDC as of Thursday, June 2, 2022.
The Crawford County Commission on Aging will be making the following changes:
Masks will not be required by staff or participants at the Senior Center on both Lawndale and M72.
Be vigilant about washing your hands. Get vaccinated and boosted. If you are not feeling well, please get tested. If you need a test, please contact the COA.
If you test positive or if you are exposed to someone who has tested positive and you are not fully vaccinated and boosted, you need to quarantine/isolate for 5 days and then wear a mask for the next 5 days. Also, if you test positive and symptoms have not improved after initial 5 days you may have to extend isolation period until symptoms begin to improve.
Feel free to wear a mask at any time. Just because the requirement is being lifted doesn't mean you can't wear one. If you are having trouble with coughing/sneezing for any reason, you are encouraged to wear one to help reduce the spread of germs. If you have a weakened immune system or are not vaccinated, wearing a mask is advised.
If at any time COVID-19 trends back up, the mask mandate will be reinstated.
The two sites currently being monitored by management are:
https://www.cdc.gov/coronavirus/2019-ncov/your-health/covid-by-county.html
https://www.bridgemi.com/michigan-coronavirus-dashboard-vaccines-casesdeaths-and-maps
Announcement Regarding Congregate Dinners
The Crawford County Commission on Aging & Senior Center is serving lunch Monday thru Friday from 11:30am – 12:30pm. Curbside Takeout Congregate Meal Service is also available. Call the Senior Center at (989) 348-7123 between the hours of 9–11:30am to order lunch for takeout. Curbside pickup will take place during serving hours. You do not need to order/eat the Hot Meal of the day to pick up meals. We have a variety of frozen meal options available every day. You can pick any of these options instead of the Hot Meal. You can pick up enough frozen meals to last a few days, over the weekend, or even pick-up meals once a week. Pick the best day for you and call in your order. You can order up to 2 meals per day. Frozen meals will be available for takeout for both dine in and takeout participants. So, come for lunch and take a frozen meal home for dinner.
COA Building Relocation & Expansion Plans
If you'd like to learn more about the plans for our New Senior Center Building please watch the recording of our Virtual Town Hall Meeting that took place 11/9/2020. If you have any questions about the plans or ideas you would like to present email director@crawfordcoa.org.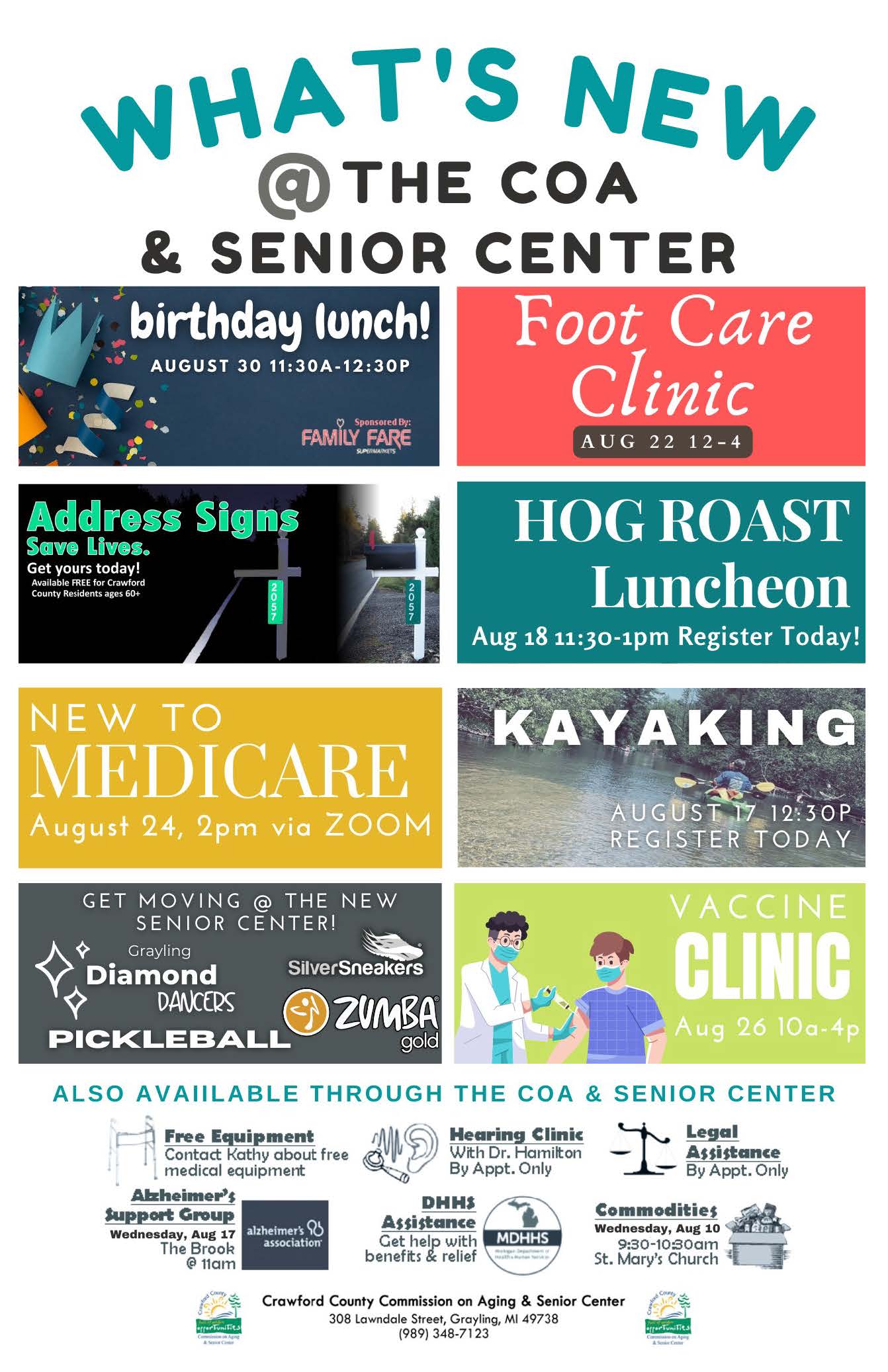 Upcoming Events
Click on the Flyer to see the full sized copy.
Ongoing Activities and Programs
Click on the Flyer to see the full sized copy.