Update: New Senior Center
Construction Begins!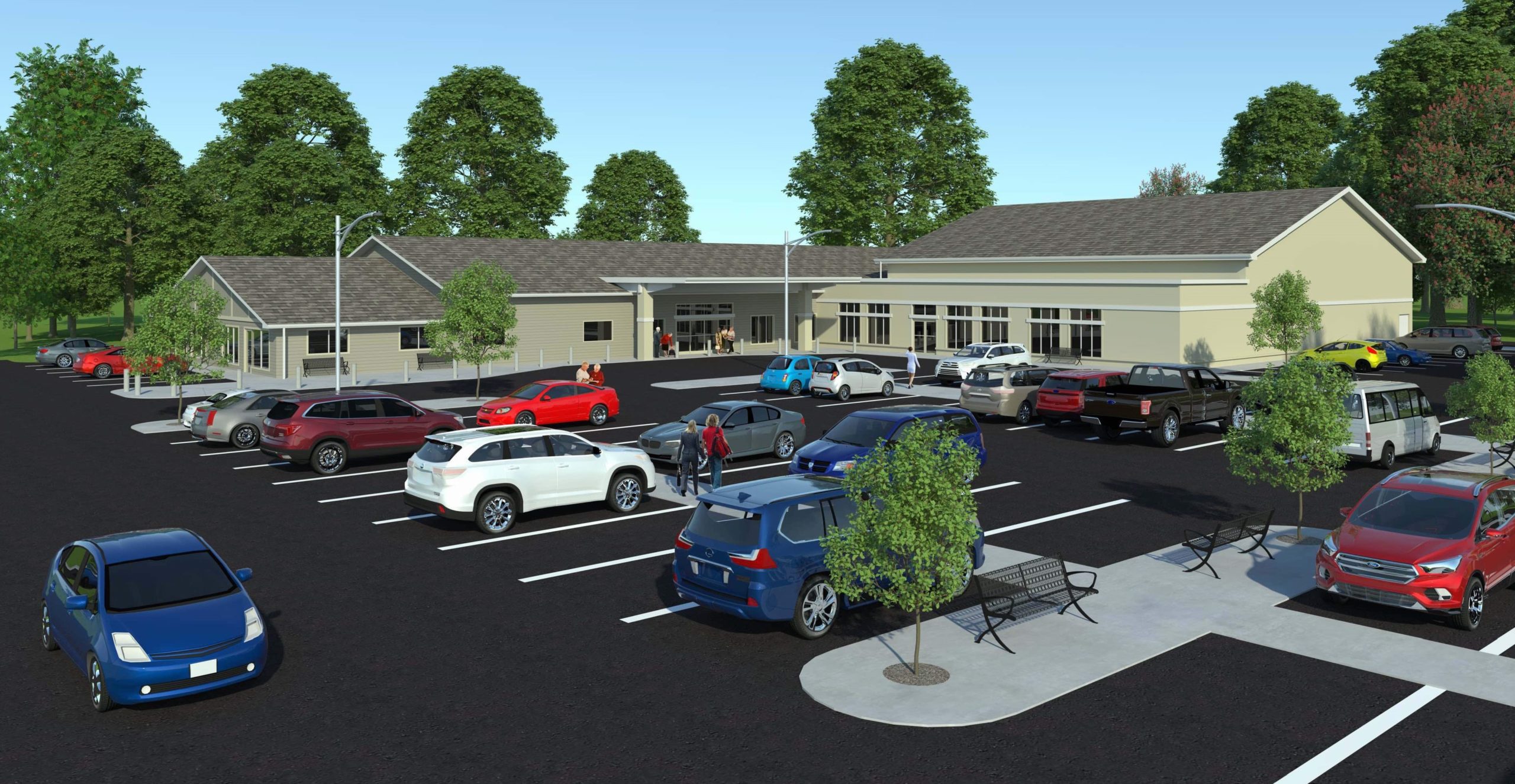 On February 23, 2023, the Commission On Aging Board received an additional $1 million in funds allocated by Crawford County Commission from the American Rescue Plan Act, which is a Federal assistance program created during COVID. These funds gave the COA enough money to move forward with the new Senior Center. The COA Board met immediately to approve the construction bids. Since the end of February, there has been a flurry of activity to prepare for construction!
We had a party on April 22. A pre-construction community potluck with games and dancing. We called this one the "Grime" party. This old factory building was loaded with "grime". Our grand opening when construction is completed shall be called the "Glitter" party. "Grime to Glitter" definitely fit and this "Grime" party was a great way to emotionally prepare for losing access to a building that we have used heavily for fitness classes. Over 125 people attended the Grime party. It was a great celebration!
By April 24, we had to vacate the building. Many hands helped move our equipment and things back to the 308 Lawndale Street building. We are grateful to all who helped with the party and the move. Your party participation, cleanup, and moving help… made this fun and exciting. Thank you.
All fitness activities at our new Senior Center location needed to be relocated during this construction phase. Through a gracious partnership with the Devereaux Memorial Crawford County Library, we have moved most of our fitness classes to the library. Zumba Gold, Silver Sneakers and Tai Chi are meeting on their regular days and class times.
Our COA Site Hosts are at the library during our classes to welcome and assist everyone with attendance. An added bonus, the COA Site Hosts and those attending our fitness classes, have become highly visible ambassadors for our Senior Center! They are the joyfully moving, friendly and helpful older adults who make Grayling a wonderful place to live. We have been receiving daily comments of positive affirmations concerning our seniors using the library for fitness and also, we have heard some of these adults are volunteering plus looking for ways to help the library.
We are connecting with other locations for our COA Pickleball players to use with regular court times. This activity will need to find a longer-term host site until we can build our gymnasium which is Phase 2 of our construction project. We are not giving up but will need to secure more funding to build our gym.
Director Alice Snyder is working with the Crawford County Trails Committee to apply for a $1 million grant from the Michigan DNR. Part of this funding will be applied toward building a new outdoor Pickleball court, plus an engineering study to connect a walking / bike path along M-72 East from town to the Rayburns property.
The groundbreaking ceremony will be on May 5, at 4:00 p.m. Please join us in this history making event! Since 1985, the Commission on Aging has made it a goal to build a new Senior Center. We will be taking pictures of this groundbreaking celebration. Be a part of this long-awaited history and jump into this photo.
Stay tuned! We'll keep sharing New Building Updates and timelines as they develop.
Announcement Regarding Congregate Meals
Current Availability
The Crawford County Commission on Aging & Senior Center is serving lunch Monday thru Friday from 11:30am – 12:30pm and dinners will restart in June.
Unfortunately, curbside Takeout Congregate Meal Service has ended.
We have a variety of frozen meal options available every day. You can pick any of these options instead of the Hot Meal. You can pick up enough frozen meals to last a few days, over the weekend, or even pick-up meals once a week. Pick the best day for you and call in your order. You can order up to 2 meals per day. Frozen meals will be available for takeout for both dine in and takeout participants. So, come for lunch and take a frozen meal home for dinner.
Carry Out Meals Have Ended
We are very sorry to report that the carry out meals at the Senior Center has ending. Dine in is still available from Monday through Friday.
Prior to COVID, the Crawford County Commission on Aging was only allowed to carry out meals in very specific situations. When COVID hit, the federal government allowed an exception for meal providers to provide carry out meals to all participants. We have been informed that the exception that was granted has ended.
In addition, the state was notified that the pre-COVID special allowances would not be able to continue. No carry out meals will be allowed under the Congregate Program unless it is taken during participation in a COA sponsored event. A new provision was made for carry out meals, but it is funded under the Meals on Wheels program which is already over budget every year. We are sorry that this convenient option is being eliminated.
If you would like to comment on this change, please forward to:
Aging, Community Living and Supports Bureau, P.O. Box 30676, Lansing, MI 48909-8176.
Upcoming Events
Click on the Flyer to see the full sized copy.
Ongoing Activities and Programs
Click on the Flyer to see the full sized copy.