Announcement Regarding Congregate Dinners
The Crawford County Commission on Aging & Senior Center will no longer be serving dinner effective November 1st due to lack of attendance. Lunch will continue to be served Monday thru Friday from 11:30am – 12:30pm. Curbside Takeout Congregate Meal Service will remain in effect. Call the Senior Center at (989) 348-7123 between the hours of 9–11:30am to order lunch for takeout. Curbside pickup will take place during serving hours. You do not need to order/eat the Hot Meal of the day to pick up meals. We have a variety of frozen meal options available every day. You can pick any of these options instead of the Hot Meal. You can pick up enough frozen meals to last a few days, over the weekend, or even pick-up meals once a week. Pick the best day for you and call in your order. You can order up to 2 meals per day. Frozen meals will be available for takeout for both dine in and takeout participants. So, come for lunch and take a frozen meal home for dinner.
Announcement Regarding Reopening
The Crawford County Commission on Aging & Senior Center is excited to announce that it is officially open to the public! We are committed to taking the necessary measures to ensure the health and safety of our agency clients, caregivers, staff, volunteers and community members. While open we are requiring face masks to be worn by anyone who has not been fully vaccinated and requesting social distancing wherever possible. Please note the following:
Hours: The Commission on Aging will be open Monday through Friday 8:30am-4:30pm.
Meals:
Our dining room is open for Congregate Lunches Monday through Friday! No reservation is needed.
We will continue to offer meals Monday thru Friday on a curbside basis from 11:30am-12:30pm. Hot and Frozen meals can be picked up at that time for lunch and dinner as well as meals for the weekend. Please call the COA at (989) 348-7123 between 9-11am to order your take-out meal.
Meals On Wheels and In-Home Services will continue to be delivered as needed.
Activities: We are now offering many returning activities again and several new activities; see the flyers below for current activity offering.
We are excited to be open and welcome everyone back! Stay tuned for further communication through the COA phone calls, emails, this site and our Facebook page. Your honesty and adherence to our guidelines will help every be safe and able to enjoy things as we our programs and services return to a normal level.
COA Building Relocation & Expansion Plans
If you'd like to learn more about the plans for our New Senior Center Building please watch the recording of our Virtual Town Hall Meeting that took place 11/9/2020. If you have any questions about the plans or ideas you would like to present email director@crawfordcoa.org.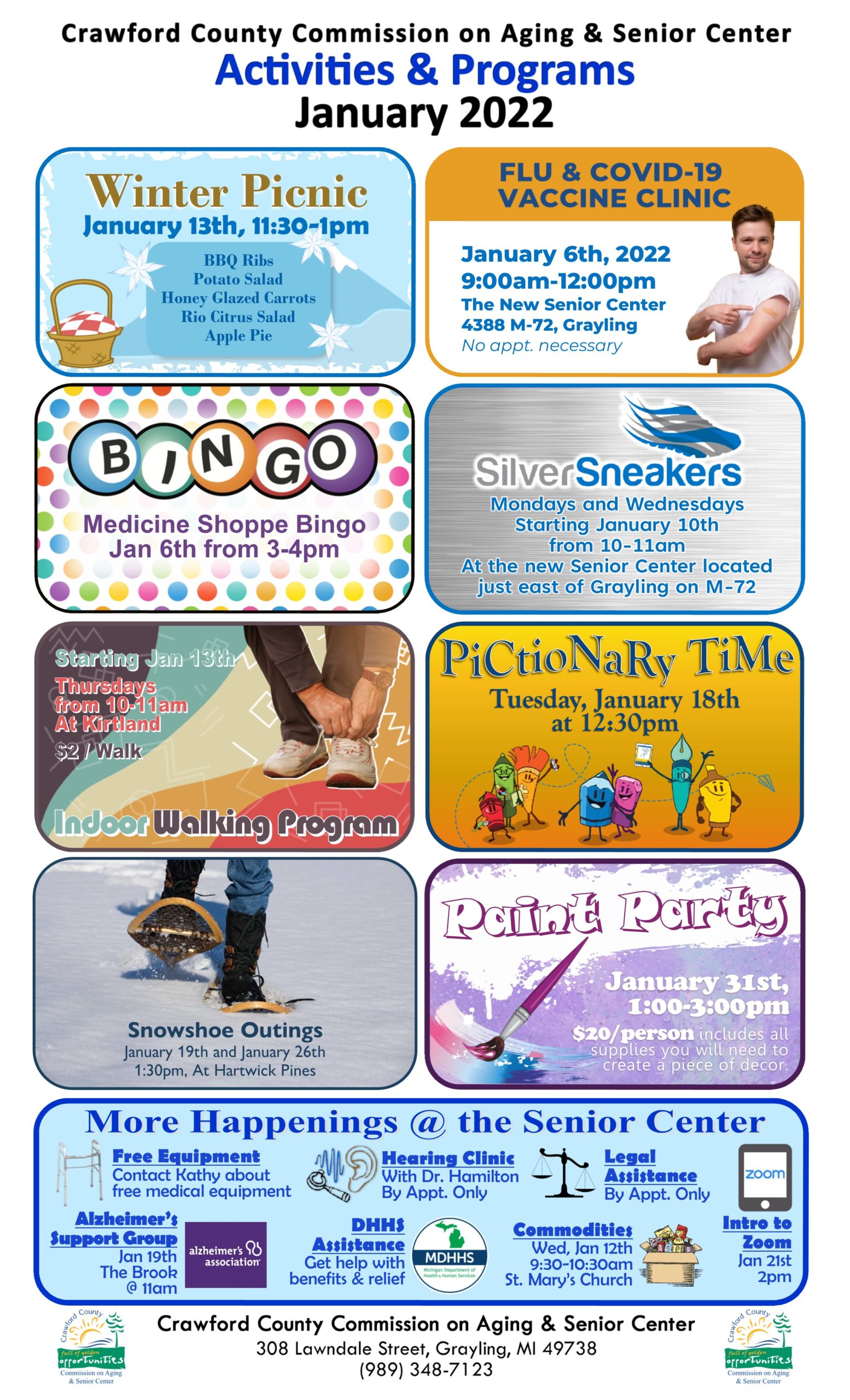 Upcoming Events
Click on the Flyer to see the full sized copy.
Ongoing Activities and Programs
Click on the Flyer to see the full sized copy.