Crawford County Commission on Aging: Meeting Notice
A meeting of the Crawford County Commission on Aging: Monday, October 3, 2022 4:30pm
Meeting will be at the Commission on Aging 308 Lawndale St., Grayling, MI 49738 989-348-7123
The purpose of this meeting will be to discuss the construction bids on the new building for the Crawford County Commission on Aging and conduct any other business that comes before the Commission on Aging.
New Building Update!!
Exciting news regarding the future home of the Crawford County Commission on Aging! The plans for the New Building have been finalized and ready to be put out for bidding! Stay tuned to our website and future Senior Gazette's for more updates! Below is the 00 11 13 Advertisement for Bids.
Senior Center – Crawford County Commission on Aging
00 11 13 Advertisement for Bids – 1
SECTION 00 11 13
ADVERTISEMENT FOR BIDS
Crawford County Commission on Aging (CCCOA) & Apex Engineering & Management will receive sealed or emailed bids for the Senior Center – Renovation & Addition Bids are to be addressed to Crawford County and can be delivered to CCCOA – 308 Lawndale Street, Grayling, MI 49738 or emailed to CM – steve@apexem.net by 2:00pm local time, September 9, 2022. Bids received after 2:00pm will not be considered. If you email your bid, please follow up with a phone call to CM – 231.275.2600 to confirm receipt of bid. Call must be made by bid due date & time.
A pre-bid meeting and site walk-through will be conducted by CCCOA, Apex Engineering & Mgt and James S Bates Architect on August 22, 2022, at 2:00pm at the project site. 4338 M-72 West Grayling, MI 49738
Bids will be publicly disclosed at CCCOA board meeting
Proposals will be received for the following Bid Packages:
BP-01 Sitework
BP-02 Concrete
BP-03 Masonry
BP-04 Steel
BP-05 General Trades
BP-06 Insulation
BP-07 Roofing
BP-08 Aluminum Entrances
BP-09 Gypsum Board-Ceilings
BP-10 Painting
BP-11 Flooring-Base
BP-12 Casework-Counters
BP-13 Plumbing-HVAC
BP-14 Electrical
No direct contact will be allowed with the Owner. Direct all questions to the Construction Manager – Apex Engineering & Mgt (231.275.2600). Email can also be used –steve@apexem.net
Plans and specifications may be obtained from the Construction Manager, Apex Engineering & Mgt for a refundable deposit of $100. The plans and specifications will be available via email request or pickup on 8/23/22. Please contact our office for pickup or we will deliver to the pre-bid meeting. The deposit will only be refunded for contract document sets returned in useable condition. In addition, a separate nonrefundable deposit of $50 per set is required for sets that must be mailed. Checks for deposits/mailing shall be made out to Apex Engineering & Mgt. All bidders will be responsible for the entire set of Contract Documents.
Proposals shall be submitted on Proposal Forms furnished by the Construction Manager as part of the Bidding Documents and shall be executed in strict accordance with the Drawings and Specifications. Successful bidders will contract directly with Crawford County Commission on Aging the performance of this work. Apex Engineering & Mgt will act as the Owner's representative and manage the project. No Bidder may withdraw their bid within 30 days of the actual bid opening. The Owner and Construction Manager reserve the right to reject any or all bids, to accept other than a low bid, to waive informalities in any or all bids and to accept the bid, which, in their opinion, is in the best interest of CCCOA.
End of Section 00 11 13
Advertisement for Bids – 1
COA Building Relocation & Expansion Plans
If you'd like to learn more about the plans for our New Senior Center Building please watch the recording of our Virtual Town Hall Meeting that took place 11/9/2020. If you have any questions about the plans or ideas you would like to present email director@crawfordcoa.org.
Announcement Regarding Congregate Dinners
The Crawford County Commission on Aging & Senior Center is serving lunch Monday thru Friday from 11:30am – 12:30pm. Curbside Takeout Congregate Meal Service is also available. Call the Senior Center at (989) 348-7123 between the hours of 9–11:30am to order lunch for takeout. Curbside pickup will take place during serving hours. You do not need to order/eat the Hot Meal of the day to pick up meals. We have a variety of frozen meal options available every day. You can pick any of these options instead of the Hot Meal. You can pick up enough frozen meals to last a few days, over the weekend, or even pick-up meals once a week. Pick the best day for you and call in your order. You can order up to 2 meals per day. Frozen meals will be available for takeout for both dine in and takeout participants. So, come for lunch and take a frozen meal home for dinner.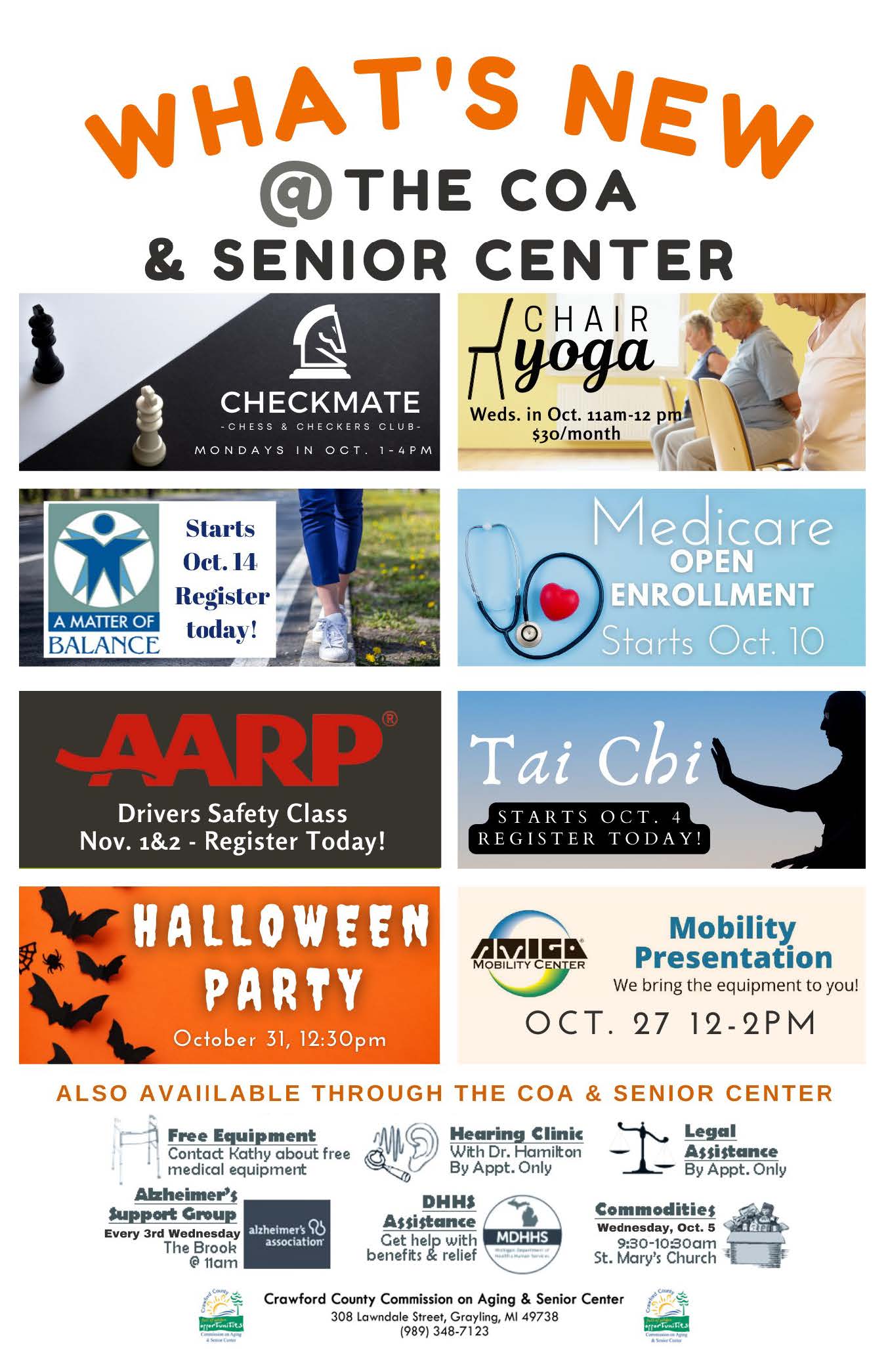 Upcoming Events
Click on the Flyer to see the full sized copy.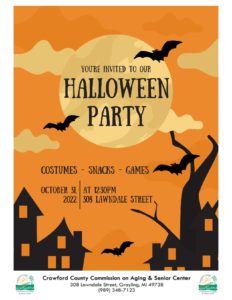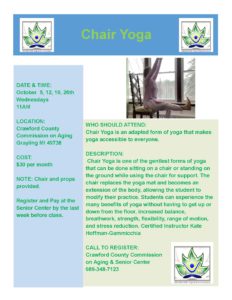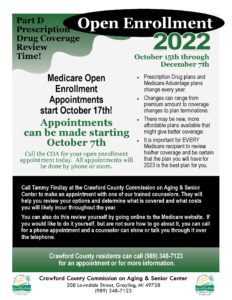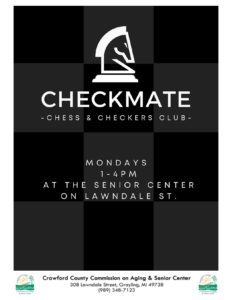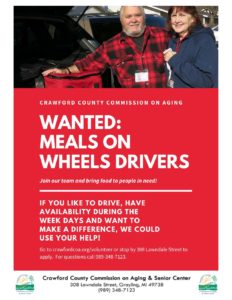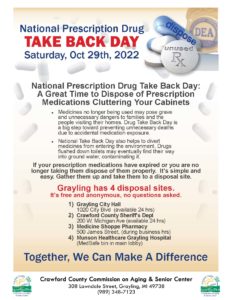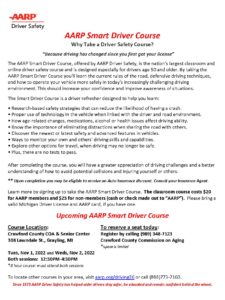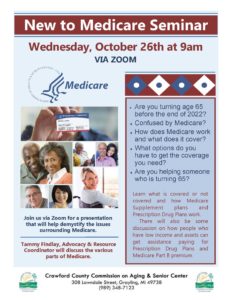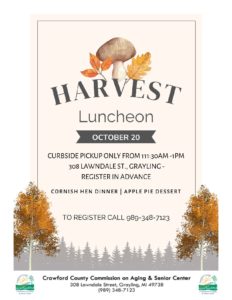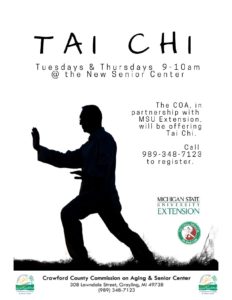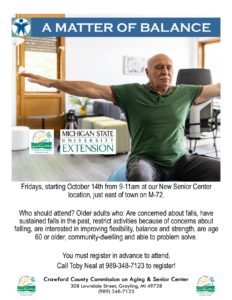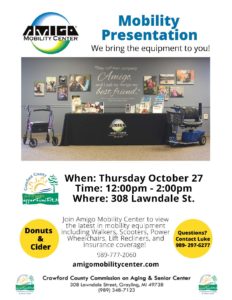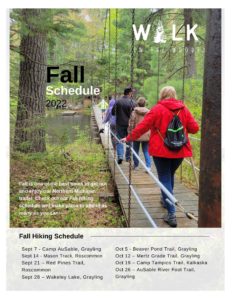 Ongoing Activities and Programs
Click on the Flyer to see the full sized copy.