New Building Update!
The COA Board voted on October 11th, 2022, to eliminate the gymnasium addition for the new Senior Center. Bids received for the project were at least $2.1 million dollars over budget. Categories such as roofing, masonry, steel and sitework did not even have bidders. All bids were rejected, and revised plans will be completed for rebidding in January. The new plans will show the gymnasium as a part of Phase 2 of the building plan.
We are not alone with these problems. Every day we hear of another project that is struggling to move forward as planned. We've worked hard to find additional funding for this project as well. A $268,000 grant from the Allen Foundation is set to pay for the majority of the kitchen equipment. Weyerhaeuser donated $20,000 toward the project. The Grayling Promotional Association has committed $10,000 to the project. The County has submitted a $250,000 grant request to USDA Rural Development as well. If you would like to donate to the building project, or know someone who can, please contact Director Alice Snyder at 989-348-7123.
Moving forward, this project will still resolve many of the COA's existing problems. There will be no more issues with parking at the new location as it will have ample space for all visitors. We will increase the size of our kitchen and have a walk-in cooler/freezer which is a common amenity in most commercial kitchens. There will be a dedicated space for classes in the new Exercise Studio and we will no longer need to use the dining room for regular activities and meetings with the addition of a Conference Room and Activity room. We'll more than double our restroom capacity. We'll also have a bonus room for large events and meals that will be available for rent.
We are looking forward to putting Phase One of the project out to bid in January 2023 and breaking ground in the Spring of 2023!
Announcement Regarding Congregate Dinners
The Crawford County Commission on Aging & Senior Center is serving lunch Monday thru Friday from 11:30am – 12:30pm. Curbside Takeout Congregate Meal Service is also available. Call the Senior Center at (989) 348-7123 between the hours of 9–11:30am to order lunch for takeout. Curbside pickup will take place during serving hours. You do not need to order/eat the Hot Meal of the day to pick up meals. We have a variety of frozen meal options available every day. You can pick any of these options instead of the Hot Meal. You can pick up enough frozen meals to last a few days, over the weekend, or even pick-up meals once a week. Pick the best day for you and call in your order. You can order up to 2 meals per day. Frozen meals will be available for takeout for both dine in and takeout participants. So, come for lunch and take a frozen meal home for dinner.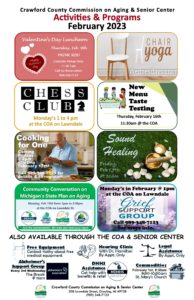 Upcoming Events
Click on the Flyer to see the full sized copy.
Ongoing Activities and Programs
Click on the Flyer to see the full sized copy.