New Senior Center Update – Bids & Budget Approved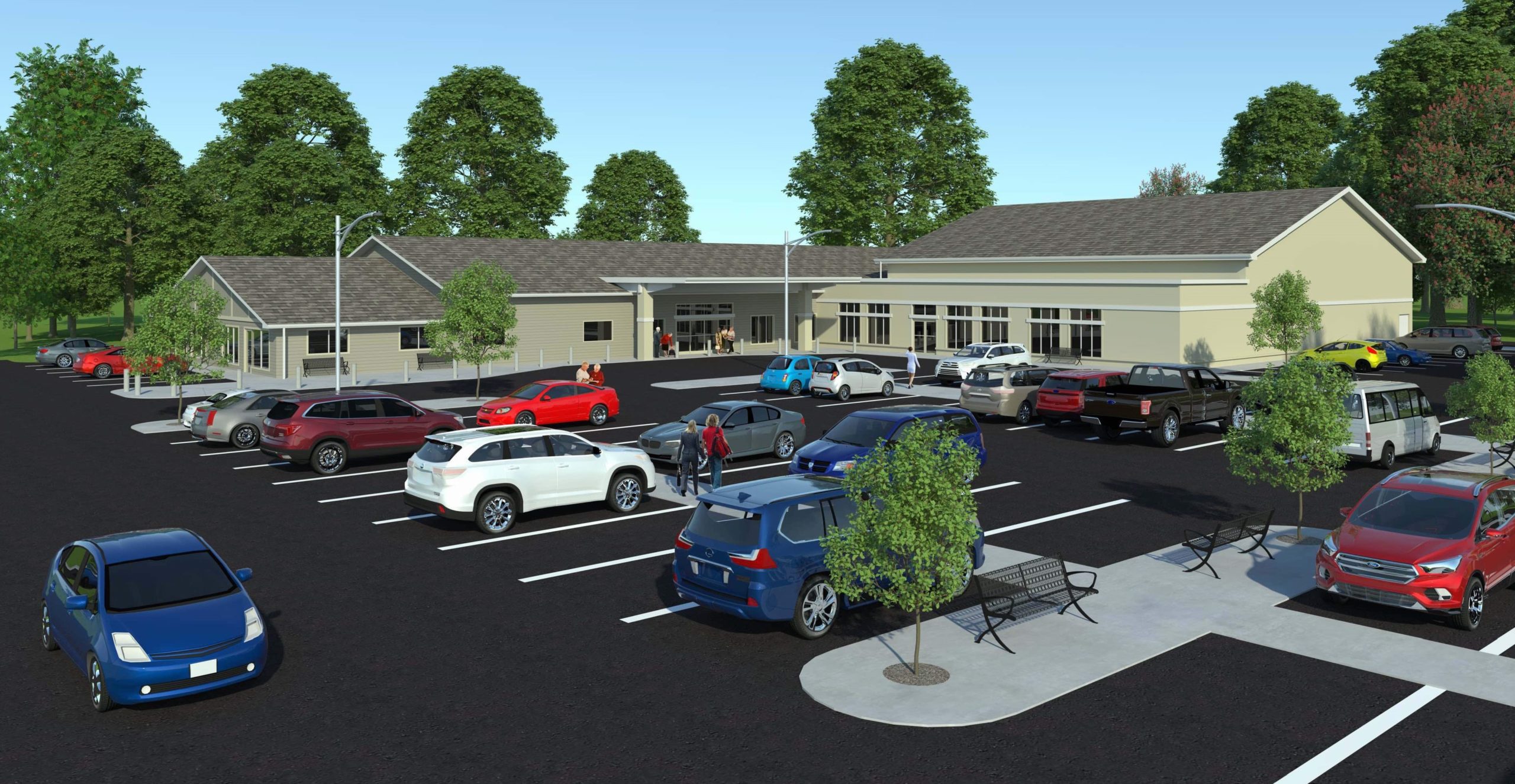 The COA Board voted on February 22, 2023 to recommend bids for the new Senior Center along with a request to the County Commissioners for up to $1 million of ARPA (COVID) dollars for the project's budget gap. County Commissioners met the next day and approved the bids for construction along with the gift of $1 million. We are so incredibly thankful for their support! We hope to break ground at the beginning of May or sooner if we can.
Moving forward, this project will still resolve many of the COA's existing problems. There will be no more issues with parking at the new location as it will have ample space for all visitors. We will increase the size of our kitchen and have a walk-in cooler/freezer which is a common amenity in most commercial kitchens. There will be a dedicated space for classes in the new Exercise Studio and we will no longer need to use the dining room for regular activities and meetings with the addition of a Conference Room and Activity room. We'll more than double our restroom capacity. We'll also have a bonus room for large events and meals that will be available for rent.
We continue to work on additional funding for the gymnasium which is now Phase II of the project. We are hopeful for an opportunity to apply along with the Crawford County Trails Committee for a $1 million Michigan DNR grant that will build an outdoor pickleball court, the gymnasium and provide funding for a study to put in a path along M-72 east from town to Rayburns property.
Stay tuned for information about our groundbreaking in the spring!
Announcement Regarding Congregate Meals
Current Availability
The Crawford County Commission on Aging & Senior Center is serving lunch Monday thru Friday from 11:30am – 12:30pm. Curbside Takeout Congregate Meal Service is also available. Call the Senior Center at (989) 348-7123 between the hours of 9–11:30am to order lunch for takeout. Curbside pickup will take place during serving hours. You do not need to order/eat the Hot Meal of the day to pick up meals. We have a variety of frozen meal options available every day. You can pick any of these options instead of the Hot Meal. You can pick up enough frozen meals to last a few days, over the weekend, or even pick-up meals once a week. Pick the best day for you and call in your order. You can order up to 2 meals per day. Frozen meals will be available for takeout for both dine in and takeout participants. So, come for lunch and take a frozen meal home for dinner.
Carry Out Meals Ending Soon
We are very sorry to report that the carry out meals at the Senior Center will soon be ending. Prior to COVID, the Crawford County Commission on Aging was only allowed to carry out meals in very specific situations. When COVID hit, the federal government allowed an exception for meal providers to provide carry out meals to all participants. We have been informed that the exception that was granted is soon ending. No date has been announced, but this is intended to give you a "heads up" in case it's announced before the next Senior Gazette is published. In addition, the state was notified that the pre-COVID special allowances would not be able to continue. No carry out meals will be allowed under the Congregate Program unless taken with participates to a COA sponsored event. A new provision was made for carry out meals, but it is funded under the Meals on Wheels program which is already over budget every year. We are sorry that this convenient option is being eliminated. If you would like to comment on this change, please forward to the ACLS Bureau – Aging, Community Living and Supports, P.O. Box 30676, Lansing, MI 48909-8176.
Upcoming Events
Click on the Flyer to see the full sized copy.
Ongoing Activities and Programs
Click on the Flyer to see the full sized copy.