Contact the Senior Center at 989.348.7123 for information on upcoming special events

Community Dinners are held once a month at the Senior Center. Everyone is invited to join us for this special themed dinner. No reservations are required. The cost of dinner is a suggested $3.50 donations for those over 60 years of age and a $6.00 cost for those under 60. Dinner is served from 4-6pm.

Community Garden Friends The Crawford County Commission on Aging & Senior Center along with the City of Grayling, Huron Pines, Michigan State University Extension and Munson Grayling Hospital is sponsoring the Community Garden. The property, located at the corner of Madsen and Mary Ann Streets, is being made available courtesy of the Carl W. Borchers Post Veterans of Foreign Wars (VFW) #3736. The Community Garden plots will normally be plowed and ready after Memorial Day each year. There are several plots available free of charge to Crawford County Residents. Sign up takes place starting in May until all plots are assigned. The Community Garden Friends is also seeking volunteers to help with several garden projects. If you are interested in helping with garden projects or in obtaining a garden plot, please contact the Commission on Aging at 348-7123.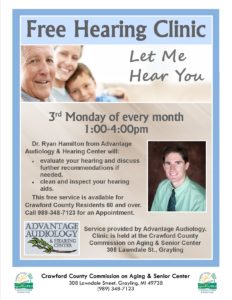 Hearing Clinic is held every third Monday of the month, from 1-4 pm. Dr. Ryan Hamilton, Au.D., CCC/A will be providing free basic hearing screening/testing and basic hearing aid cleaning.
Call 348-7123 to set up an appointments.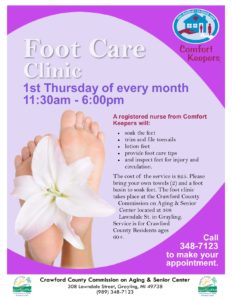 Foot Clinic is held on the second Tuesday of the Month from 11:30-5:30pm. Cost per visit is $25. While at the Foot Clinic the Nurse will trim and file toenails, lotion and massage feet, provide foot care tips, inspect feet for injury and circulation, and recommend physician care when needed. Call 348-7123 to set up an appointment.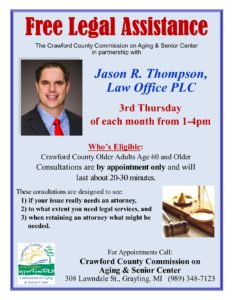 Free Legal Assistance – The Crawford County Commission on Aging & Senior Center, in partnership with Jason R. Thompson, Law Office PLC are initiating a program to offer free, basic legal advice to Crawford County Seniors age 60 and over. On the fourth Wednesday of each month Jason Thompson will be available from 1-4pm for consultation. Consultations are by appointment only and will last about 20-30 minutes.
These consultations are designed to see if your issue really needs an attorney, to what extent you need legal services, and when retaining an attorney might be advisable.
Appointments may be made by calling the Advocacy & Resource Coordinator at the Commission on Aging & Senior Center, 348-7123.
Other Free Legal Assistance Programs – The Michigan Legal Help website assists people who want to handle simple civil legal matters without a lawyer. It includes articles on specific legal domains, including estates and guardianship, landlord/tenant matters, protection from abuse, public benefits, etc. It also provides toolkits to help you prepare to represent yourself in court. Some legal forms can be filled out right on the site. Visit the site at www.michiganlegalhelp.org.
The Legal Hotline for Michigan Seniors allows older adults to speak directly to an attorney specializing in elder law issues. There is no income test and the call is free. The hotline – (866) 400-9164 – is available Monday through Thursday from 10 am to 3 pm. The hotline is a service of the Lansing-based nonprofit organization, Elder Law of Michigan, which also offers pension and benefits counseling and other services – www.elderlawofmi.org.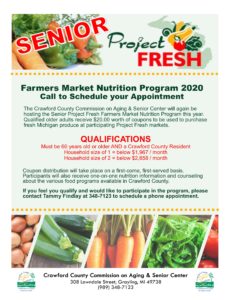 Senior Project Fresh (Summer/Fall Seasonal Program) The Crawford County Commission on Aging & Senior Center will be hosting the Senior Project Fresh Farmers Market Nutrition Program this year. Qualified older adults receive $20.00 worth of coupons that are used to purchase fresh Michigan produce at participating Project Fresh Markets which include the downtown Grayling Farmers Market and the Grayling Greenhouse. Must be 60 years old or older and a Crawford County Resident and income in 2018 is: Household size of 1 = below $1,871.58 / month or for a household size of 2 = below $2,537.58 / month. Coupon distribution will take place on a first-come, first-served basis. If you feel you qualify and would like to participate in the program, please contact Tammy Findlay starting at 348-7123 to schedule an appointment
Kinship Care – Are you age 55+ and caring for a relative child 18 years of age or younger? We may be able to help. The National Family Caregiver Support Program offers assistance through Kinship. Families can receive funding for clothes, camps, tutoring, music lessons, sports, counseling, school supplies, scouting, and church trips. Funded activities should enhance the family environment and/or individual self-esteem or relate to the reduction of negative behaviors or poor performance in school/social settings.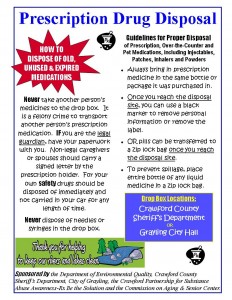 Prescription Drug Disposal – Guidelines for Proper Disposal of Prescription, Over-the-Counter and Pet Medications, including Injectables, Patches, Inhalers and Powders. Always bring in prescription medicine in the same bottle or package it was purchased in. Once you reach the disposal site, you can use a black marker to remove personal information or remove the label. Or pills can be transferred to a zip lock bag once you reach the disposal site. To prevent spillage, place entire bottle of any liquid medicine in a zip lock bag.
Drop Box Locations: Crawford County Sheriff's Department, Grayling City Hall, The Medicine Shoppe, & Munson Grayling Healthcare Hospital
Pet Assistance Program:
Are you a low-income older adult and have a need for Cat or Dog Food? If so the Pet Assistance Program may be able to help you. You must be 60 years of age or older and a resident of Crawford County.